'When will you give them to me?' -
Esha
一 Laptop on my own
二 T-Mobile Sidekick example 1
三 more Esprit bags
四 Japanese & Korean Languange Class/Dictionary I bought it!YYES!
五 Adobe Photoshop CS4
六 Cage Heel Shoe example 1
七 Gladiator Shoes example 1,example 2
八 All Jonas Brothers Albums and their Burnin' Up Tour Book. 1,2,3,4,book I bought it!YYES!
九 Mary-Jane or Oxford shoe
十 Any BabyCakes clothes website
二十 Ticket to Japan or Korea
二十一 My own Clothing Shop or Blogshop.
二十二 Perfume Thanks Ayah <3
二十三 new thumbdrive(1 or 2 GB) Thanks Mama <3
二十四 any Hollister clothes
二十五 charm bracelet

[back to the top]
Since there is nothing to post so,I guess I will post about Boys Before Flowers.A lot of people watch that drama,isn't?
Hmmm....Today,I thought I will never get a chance to watch BBF episodes 15 and 16.Thanks God,I got the chance!Episode 16 is the 2nd best episode after episode 5 and 6.
Why?Because,,F4...the actors in Boys Before Flowers got a new haircut!!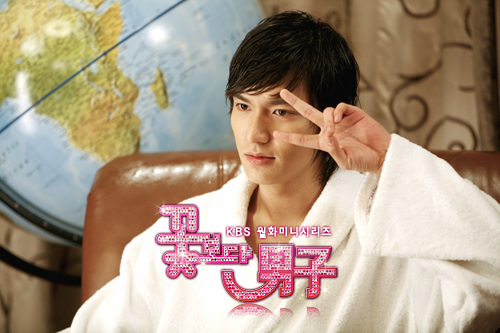 Lee Min Ho(Gu Jun Pyo) new hair?Not really lah.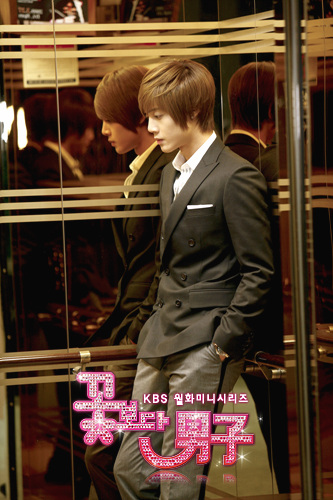 Kim Hyun Joong(Ji Hoo) cute ;)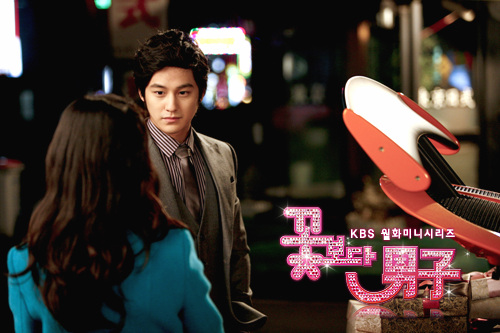 Kim Bum(Yi Jung) I like the old hair.It's look better!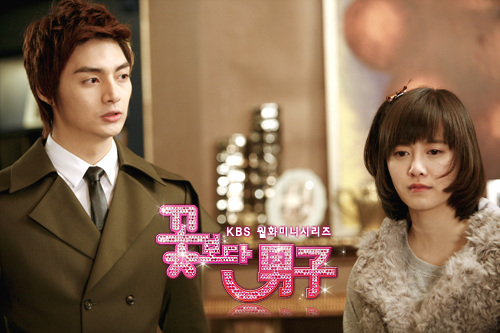 Kim Joon(Woo Bin) he looks mature with this hair.
Labels: K-Drama
[back to the top]
Finally,I have finished watch Boys Before Flowers Korean Version (Hana Yori Dango) untill episodes 14.The drama is still ongoing so I have to wait for episode 15 until 24.Haaaaa....I can't wait for it!!
By the way,In this drama, I really like Kim Bum and Kim Hyun Joong.They are really cute! They are my new heroes :) Below are their pictures;
Kim Hyun Joong

Kim Bum
Boys Before Flowers OST
scroll down;bottom of this page :)
Labels: K-Drama
[back to the top]
Finally,I got a new layout! Now,you can folllow & comment to my blog easily :)
vvvprevious layoutvvv
[back to the top]
PSV time;
Today we're suppose to continue our art last 2 weeks.We bring all the stuff that we might be use.Then,teacher asked us to go to the library to watch a video about drawing using
computer(photoshop)
and
Upin&Ipin
.But,the room was too smelly.We can't breath at all!Ergh..
WHATASTINKY?!??!
Then,we decided to continue our art.
Teacher showed us the posters about
'Sayangi Buku Teks Anda'
. He showed the
best
and the
worst
artworks.I was so shocked that he tear the worst artworks!!Well,not me but I think most of the girls really shocked about that.How could he do that?
He just crossed the lines!
We know the arts was really bad,but atleast please,okay
please appreciate
their works!Even it's ugly and you don't like it,don't tear and throw in dustbin.Just give it to them and ask to do it again or finish their works.It's better than you tear their artworks!Well,I think you are too much ;[ I know you are professional or maybe master in this thing but,we are new kids.Teach us not break our heart!
That's all~
I'm sorry :D
Labels: school
[back to the top]
Last
Saturday
,my family made a
'Kenduri Doa Selamat & Kesyukuran'
because my first sister getting well from her broken leg and my second sister are going to Australia to continue her study there.I'm
happy,jealous and proud of her
.Anyway,we invited all people we know.Our family from my mom and dad's sides,neighbours and our friends.I also invited
Nori,Syaf,Jia,Syud and Syaira
.But,they didn't come :( Anyway,there are alot of foods at that day.My auntie(maklong) as the
chef leader
,my mom and my uncle(ngah/Diera's father) were the
assistants
, and us(the kids) were the
chef
.HAHA...We started our cooking by peel off the
onions,gingers,garlics,carrots and cucumbers
at 8 o'clock in the morning.Then,auntie(Diera's mom) fried chickens for
'ayam masak merah'
, my mom cooked
curry mee
for our lunch and.
After lunch,we continue our works.We sliced the onions,carrots,cucumbers,garlics and gingers while Diera take care of the nutmegs.Then,our chef leader started cooking 'nasi beriyani' , 'daging kuzi' & 'acar'.Hajar(my 2nd sis) and Exaty(Diera's sis) making creme caramel and muffins.At 6 pm,my dad's family arrived at my home.
After 'maghrib' we say prayers and started eating.A lot of people we there espescillay babies.We played with all the kids there.There are damn cute!!
Fact at that day;
>Me & Diera stoled a piece of fried chicken.
>A banchelor(neighbour) give us some donuts & my mom was worried about that.
>One piece of our keyboard(musical insturment) was broken. :<
>Me & my sisters slept on the floor not on the bed but I LOVE IT!

THANKS FOR READING (;
p.s; Follow my blog,okay?
Labels: creme caramel, family, feast, foods
[back to the top]
Well,on my page there is
no
button for you to follow my blog.So,i figured out how I can fix this problem and I've found it!
Here's the tutorial how to follow my blog :) Well,go to your DASHBOARD(image 1),then look at your 'BLOGS I'M FOLLOWING' section(image 2) and click at "ADD"(image 3).A new window will pop-up,and you have to insert my blog URL that is esha69.blogspot.com[no spaces or dashes]then click "NEXT"(image 4).Lastly,click "FOLLOW"(image 5)and you're DONE!
---
That's all.Easy,isn't?So,start following my blog :)
image 1
image 2
image 3
image 4
image 5
[back to the top]